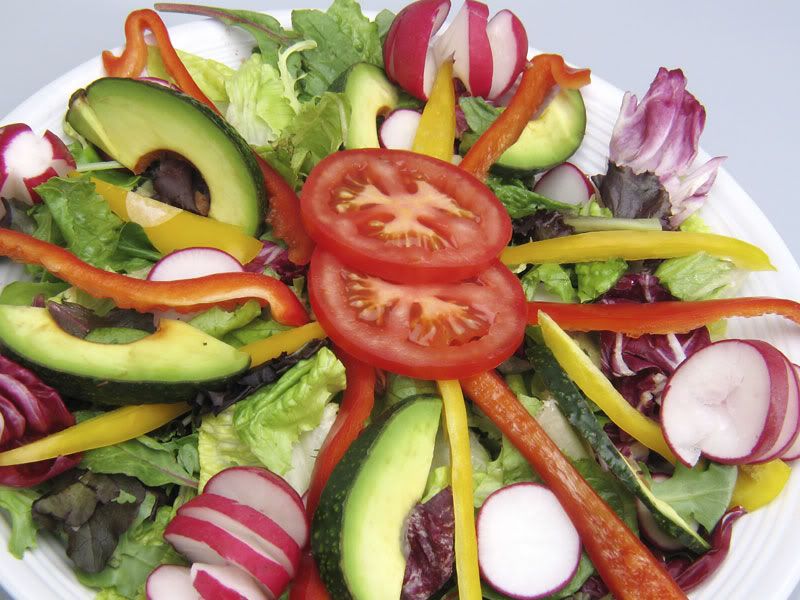 I previously posted a similar article called
15 Ways to Jazz Up a Veggie Burger
.
Salads are great. They're cool, crisp, and can encompass a wide variety of colors, flavors, and textures. They're also generally pretty healthy (especially vegan salads.) Sometimes though, salads can get boring, and they can get boring very easily if you are eating a lot of them in hopes of losing weight or becoming healthier. So, here are some ways to spice it up without killing your diet!
Try an interesting dressing. Okay, so I know this is

really

obvious, but sometimes your "favorite" just doesn't do the same magic that it used to. For traditionalist, try a raspberry vinaigrette, the sweet and sour blend is very different from the more conservative blends. Using your own custom blend of olive oil and balsamic/red wine vinegar is also a good bet. You can reduce the amount of oil to help save calories. One of my favorite homemade dressing is dijon mustard, white wine vinegar, oil, and minced garlic. My grandmother makes her own of garlic-infused EV olive oil with red wine vinegar. You can also use pickle juice or banana pepper vinegar straight from the jar for a mild no-calorie pick-me-up. At the store, Drew's line of salad dressing are my favorite. Try Kalamata Olive and Caper or Lemon Goddess Tahini if you're feeling adventurous.
Use an adventurous mix of greens. If you don't want to clean and wash 5 different types of greens, buy a bagged mix. If you find salads to be very bitter, or if you think that you have to add too much dressing in order to be able to taste it, add in lighter flavored lettuces, such as Iceberg. Iceberg isn't the healthiest (its less green), but a little goes a long way in making your salad taste that much better. Many store bought mixes incorporate Iceberg along with healthier greens such as Romaine, Arugula, and Baby Spinach.
Grow your own lettuce. Fresh picked lettuce is always the best tasting! My favorites are Romaine and Butter Crunch. Always pick the leaves before they get too big, they will be tenderer and you won't waste as much if the centers of the leaves are still green and soft. Baby Spinach is also easy to grow, and you can replant lettuces later in the season as well. Just make sure to read up on preventing it from bolting (going to seed)!

Add non-traditional and non-leafy ingredients to your salad. Try walnuts, apple slices, grapes, hot peppers (banana rings and pepperoncini) , grape tomatoes, thin sliced onions, olives of all kinds, vegan cheese, couscous, and avocados to name a few. Just be sure to pick a dressing that goes along with your choices. "Garlic Delight" might not be the best dressing for a salad with lots apples and grapes, whereas a raspberry vinaigrette would be a good pick.

Add meat-imitators to create mock "chicken" and "steak" salads. I like Boca Chik'n patties, just microwave them for a minute or two and slice 'em up! Morningstar Farms Steak Strips are also a good option, though they take more work to prepare then patties.
Wanna go Greek? And I mean without crazy frat parties and kegs of cheap non-vegan beer of course! Add kalamata olives, pepperoncini, vegan cheese (if available), and vegan Greek dressing (try Drew's Kalamata if you can't find a cheese-free Greek.)
Or go south of the border! Add vegan cheese (if available), microwaved refried pinto beans, black beans, salsa, guacamole/avocado and crushed up tortilla chips/taco shells to make a Mexican salad.

If you add vegan taco meat instead of or with the beans, its a Taco Salad.
Try croutons! You can either make your own croutons from old sliced bread or can look for vegan prepackaged ones.

If your local grocery doesn't carry any vegan croutons (like mine), I suggest taking a look for these Santa Fe Tortilla Strips by Fresh Gourmet (next to the croutons). They are absolutely fantastic! Add them to a Mexican/Taco Salad for a great treat that still is okay for your waistline.

Greens don't always have to be the star of the show, though for this guide I am mostly keeping it to traditional-type salads. However, mixing cooked and cooled penne pasta with spinach leaves, olives, onion, grape/cherry tomatoes and a Greek/Italian dressing is a sure winner, even better if you're lucky enough to have some vegan mozzerella on hand!
If life gives you lemons, make lemonade. If life gives you salad, put it between some bread and make a sandwich. If you stack a veggie sandwich high with lettuce, spinach, onion, and tomatoes you basically have a salad between two slices of bread. Just be careful to use low-calorie bread if your intention is to lose weight. Subway and D'Angelo's are great places to get a quick, vegan sandwhich that is packed with healthy and fresh veggies.