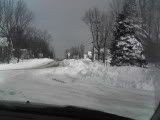 It sure is cold! Right now I think it is about 10 degrees outside, I got minor frostbite from 20 minutes of shovelling the driveway. I just so happen to live in Central Vermont, in the "snow belt" of the state. The storm just brough about 2 or 2 1/2 feet of snow, so I didnt have school yesterday or today.
4 TBS of Ghiradelli Hot Chocolate Mix (or do 3 1/2 TBS cocoa powder and sugar to your liking)
8 oz Silk Soymilk (other brands will work, Silk is the creamiest)
1) Heat the soymilk in a small pan.
2) Stir in the hot chocolate mix with a wooden spoon.
3) As it heats, beat it with an eggwisk to keep it thick without being clumpy.
4) Turn off the heat once steam starts to rise, stir.
Stay warm!